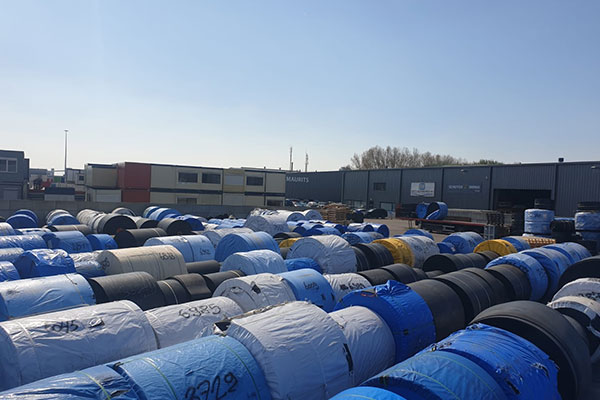 Who we are
No matter which sector you do business with, whether you are a vulcaniser or a dealer in conveyor belts, REPA Supplies has the perfect product for you! Light, midsize or heavy industry; as Europe's largest Total Single Source Supplier we can provide you with an unlimited range of materials and solutions.
REPA Supplies forms part of the REPA Group, active in the conveyor belt branch for over 25 year now, with REPA Conveyor Belts as its most well-known and oldest division. Those who know REPA have witnessed how we value customer satisfaction, making it our number one priority. We have succeeded in maintaining our outstanding performance levels by focussing on three pillar objectives: high-speed deliveries, top quality products, and great prices.
To realise these goals, we permanently have an extensive range of rubber and plastic conveyor belts in stock, including all accessory items. And thanks to this large product supply combined with our flexible work approach, we can also deliver direct drop shipments to our customers.
Our products are of excellent quality. And in our own laboratory, we test all of them for an entire spectrum of potential defects, such as wear and tear and insufficient tensile strength. In addition, we are ISO/9001- and VCA-certified and meet all requirements imposed by the REACH-, RoHS- and PAHS-regulations. And last but not least, we have a highly skilled and professional staff.
This degree of dedication stretches far beyond the Dutch country borders. Our REPA-representatives in Asia, for example, see to it that both our goods and our laboratories there equally meet all requirements. Moreover, we a have a special team of engineers that travels back and forth to our foreign locations to assist them in the further development, optimisation and control of our products.
On our website, you will find an overview of all products that REPA has in stock, from conveyor belts to troughed idlers, and from cover material to vulcanising presses.
Do not hesitate to contact us, also if you need advice and support. It is our pleasure to help you. One large advantage is that REPA Supplies is completely independent. And this means that we will always act in your interest. So feel free to discuss your plans with us, so we can provide you with a tailor-made solution.